When:
October 12, 2018 @ 7:30 pm
America/Los Angeles Timezone
2018-10-12T19:30:00-07:00
2018-10-12T19:45:00-07:00
Where:
Crossroads Riverview Park
14600 Baron Dr
Eastvale, CA 92880
USA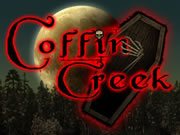 Hours Friday, Saturday 7:00 PM until 12:00 Midnight
Hours Sunday and Halloween 7:00 PM until 10:00 PM
Gate's opens at 6:30 PM
Box Office opens at 6:45 PM
Dates and times are subject to change without notice.
The legend started in 1938 when Southern California had 14 days of rain causing sever flooding. Here is part of the article from the Santa Ana Register (now the OC Register)
Corona, CA — AP
As the flood waters subside from 2 week of flooding, 13 coffins were
discovered in the wooded area next to River Rd and Archibald Ave in
the city of Corona. "The coffins are believed to from the abandoned
Guasti Cemetery in the city Ontario" said Officer Willmans. Officer
Willmans went on to say "The coffins were found by some locals floating
in a small creek that runs through the woods. The authority's and
locals started referring to this area as Coffin Creek.
The authority's continue to search the woods for the remains of the 13
coffins. Only 2 coffins had the remains found nearby. The remains of 2
other empty coffins were found in the woods, some 30 yards to the west
of what is now called Coffin Creek.
As the sun rose, Officer Willmans said " We had to stop searching
last night, those woods got really creepy after dark. I called off the
search when I started seeing and hearings things, strange things, like
(continued on page 3 see Coffin Creek)
This is all of the article I could find, page 3 was missing. Now it's up to you to find out what is haunting the woods.
FAQs
DISCLAIMER / WARNING
Coffin Creek Haunted Attraction. reserves the right to refuse admission to anyone at any time. Once inside the attraction, you will be subjected to intense audio and lighting effects, low visibility, strobe lights, water and fog. You should not enter if you are pregnant, are claustrophobic, are prone to seizures or have heart and/or respiratory problems. You will not be admitted if you appear intoxicated. Smoking, drinking, eating, open flame, photography and videography is prohibited at all times inside the attraction. Do not touch the props or actors! If you are caught violating these rules you will be asked to leave the attraction and you will not be given a refund.
THERE ARE NO REFUNDS! ENTER AT YOUR OWN RISK!
The ticket holder understands that there are inherent risks when participating in an event such as Coffin Creek Haunted Attraction and assumes all risks and dangers associated therein. In consideration and acceptance of entrance into Coffin Creek Haunted Attraction, the ticket holder agrees to release the operator, it's parent corporations, affiliates, officers, directors, employees, volunteers and property landlord from any liability, harm, injury or death, cost or expense whatsoever that may arise directly or indirectly as a result of participation in Coffin Creek Haunted Attraction.
Q: Where can I purchase tickets?
A: Tickets can be purchased at the box office or online. The box office is located at the haunt. Check back in September for more information.
Q: How long does it take to go through Coffin Creek?
A: How fast can you run?
Q: Is Coffin Creek scary?
A: Yes! If it wasn't we wouldn't keep doing this!
Q: Is security provided?
A: Yes! We have a fully trained security staff that monitors the attraction, queue and parking areas. There is at least one armed off-duty police officer onsite at all times.
Q: Will the actors try to touch us?
A: No! Our actors are trained not to touch any customer for any reason. Sometimes accidents do happen, but touching is never intentional. This works two ways. Please do not touch our actors or props! Remember, touch nothing and nothing will touch you!
Q: What happens if I get too scared to complete the tour through the attraction?
A: There are exits located throughout the attraction. If you become too frightened to complete your tour please let one of our actors know. They will escort you to the nearest exit and security will escort you out of the attraction. You will NOT be given a refund.
Q: Is Coffin Creek too scary for children?
A: Coffin Creek is not recommended for children under the age of 12, but it really depends upon the child. We leave the decision up to the parents. Children under the age of 12 must be accompanied by a parent or guardian. Please remember that no refunds will be given at any time, for any reason.
Q: Is the tour through Coffin Creek guided?
A:Yes and No! At Coffin Creek we have 5 Haunted Attractions. 2 haunts are guided tours. 2 haunts you find your way through the terror and mayhem unescorted. The last haunt is a hay ride through a haunted village
Q: Do you offer group discounts?
A: Yes! Please look at the bottom of the ticket page for Group pricing.