The old saying goes, "a picture is worth a thousand words".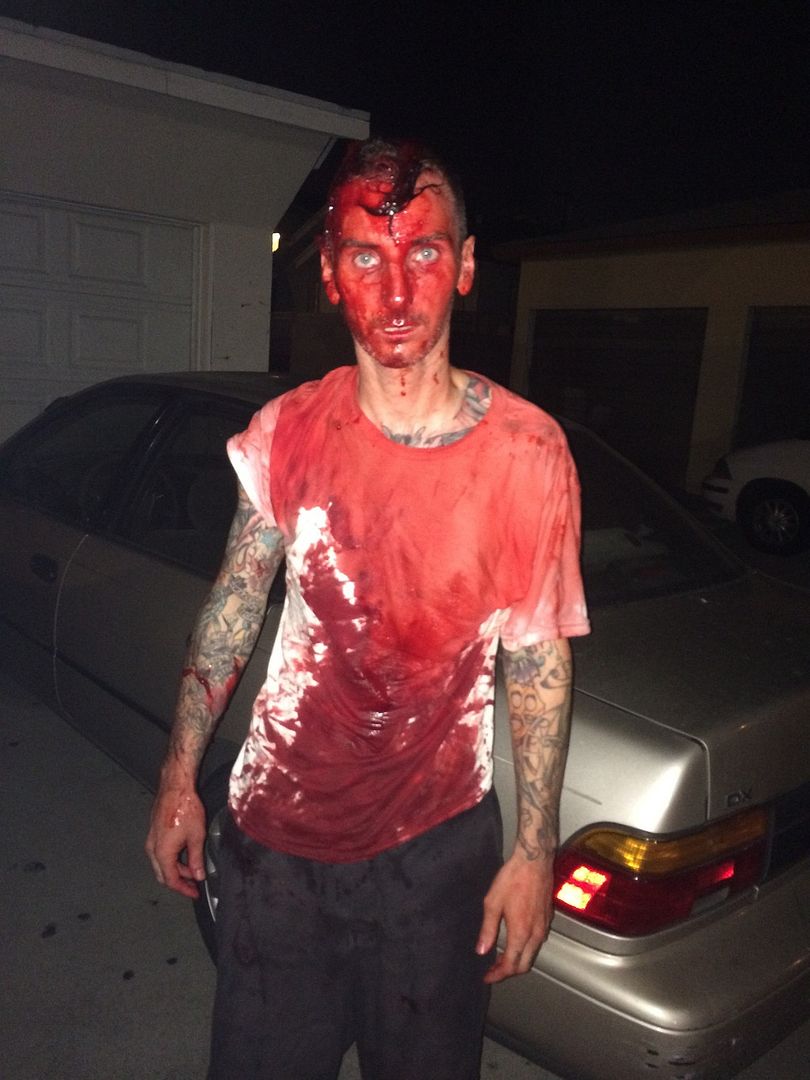 Some of the words that people might be thinking of right now are "Gross", "WTF", "Insane", "Amazing", "Jealous", or "Red"
What you see above is the aftermath of HERETIC's newest event, SUFFER. SUFFER is a bit of an oddball in the HERETIC event list as it's not really a HERETIC event. Let me explain…the SUFFER event that happened in Long Beach last week, was a private, invite only beta test for the "real" SUFFER event that will take place in Paris, France this October. The brains behind HERETIC, Adrian Marcato, worked with two production companies that are producing this and wrote the SUFFER script/walk-through for them.
Since this is something that is still going to happen, I cannot give any details about what happened within the event itself, but I will say that it was very aggressive, messy, and at the same time, well thought out. There was a story to it. There were other elements that had to be cut due to timing and will be in the full event. The things that were cut from the test sounded amazing. I can only hope they allow SUFFER to be held in Los Angeles at some point, because it was really great. Overall, I LOVED it. It's one of my favorite things HERETIC has done. Yes it was physical, yes it was violent, but at the same time, nothing got drawn out to feel like it was unnecessary to the story. I was never thinking, "ok, this is going on too long, let's change it up please."
The way I got into SUFFER was an interesting one and not like any other haunt or event I've attended before. To me, this all added to the mystery…and nervousness leading up to it. I woke up one morning last month to a text from my friend Jason (who also got an invite). It basically said something along the lines of "Congrats! I'm glad you're going to SUFFER as well". I wrote back with a "Huh?" and he responded with a link to the video that was posted on the HERETIC Facebook page. In the video, a woman speaks in French and then reads the names of people who will go through SUFFER. My name was the last name in the video. WHAT?! HOW?! I had never signed up or spoken to Adrian about it. I've attended HERETIC events in the past, so maybe my name was entered in a drawing and I won? I don't know. Either way, I was excited.
In the weeks and days leading up to it, I started to really get nervous. HERETIC changes with every event they do, so a million questions went through my mind. What will happen? Will it be worse than Victim? Will I get bloody? Will it be like other HERETIC events? Then the Facebook promoting happened where they mentioned things like "testing your gag reflex" and to "eat a full meal". WHAT AM I GETTING MYSELF INTO? Things like that creep into your mind, lay eggs, hatch and then give birth to a million babies of ideas to overthink about. Then, in the email with instructions and address that came the day before the event, this line really stood out "WEAR CLOTHES, SHOES, ETC… THAT CAN GET DAMAGED. If possible bring an extra set of clothes to change in after and or towel." Great….just great.
The day came and I head over to the address that was given. My time slot was the last one of the night. As I walked to the meeting point, I saw another friend walking back with Adrian. He said the safe word. Then, Adrian told me that all but 2 people said the safe word. CRAP. That's when I started to get really nervous and overthinking. I knew about half of the people that went through and all of them had done the same extreme haunts I had done…and yet they tapped out. What the hell happened in there? I was about to find out.
As I was going through, I could definitely see where and why some people said the safe word. It's gets REAL intense, REAL fast. there are some things that were done that can be personal emotional triggers for some people and those triggers are what caused a lot of safetys. The thing is, even though those people tapped out, every one I spoke to about it afterwards said they still loved the event. That right there is very telling of the event itself, Adrian's direction, and the staff.
SUFFER gave me a new love for HERETIC and I can't wait to see what the next event – RITUALS – will be like!
For more info on HERETIC, check out the HERETIC website or like them on the HERETIC Facebook page.
Mr. HERETIC – Adrian and myself