This is an exciting season. The Hollywood Fringe Festival of 2017 is close at hand! Last year, My Haunt Life offered our picks of "things we are excited to see" for the Festival and many friends thanked us for the recommendations. We wanted to do the same this year and….WOW….it's insane! This year, Hollywood Fringe has over 350 shows. When we made our list last year, we showcased approximately 20 shows. This year, over 50!! We are not going to get to see all of these, but we hope that some of you do and let us know what you think. The strength of Hollywood Fringe Festival is diversity…there truly is something for all tastes.
We have tried to categorize our recommendations as best as possible. Some shows can fit into more than one category. For shows like that, we included it in the category that would make us most want to see it. For example, "Slashed! The Musical" we have under horror for obvious reasons, but it would also belong under "Musicals", but we would see it for the horror elements, not the musical elements. Make sense?
Please remember, this list is NOT the entire Fringe show list. There are about 300 more shows listed on their website. Since tickets go on sale tomorrow, we wanted you to see what we're interested in and intrigued in and hopefully cherry pick some shows for you right off the bat.
Go! Explore! Take a chance on something that sounds intriguing to you!
HORROR/MONSTERS

Slashed! The Musical – Welcome to Camp Doom! Er, we mean Camp Freedom… SLASHED! THE MUSICAL is a musical comedy love-letter to the classic 80's Summer Camp Slasher Genre. Featuring a cast of characters that you know and love — but with a twist — and original songs inspired by 1980s Top 40 radio. SLASHED! will have audiences laughing and screaming from beginning until the very bloody end.


Why We Become Witches – This occult comedy of manners follows Laura Willowes, a spinster, as she does everything possible to get her family to leave her alone – including making a deal with Satan. Adapted from the 1926 novel Lolly Willowes; or The Loving Huntsman by Sylvia Townsend Warner, this bone dry comedy is a rallying cry for women who've done more than their fair share of emotional labor and a celebration of the joys of solitude.


The Rise and Fall of Dracula – The Rise and Fall of Dracula: a bold and immersive retelling of Bram Stoker's tale takes shape in this piece inspired by mythology, legends, and a variety of vampire lore. Artists Melissa Ortiz, David Kayser and Cassandra Ambe have crafted a compelling story that infuses contemporary dance, original music compositions, and familiar and not-so-familiar characters from the well-known story. The piece takes the audience back to the ancient roots of Dracula, slowly weaving the legend of the formidable, enigmatic spirit we have become so intrigued by. The story's themes of Power, Belief, and Companionship are so intertwined with dark imagery and music that it feels as if the characters could reach out and grab us.


Monster Beautiful: The Musical Interactive Horror Show – Monster Beautiful: A Horror Musical is the dark and ominous tale of Professor Sven, a down and out College Professor with a horrible secret. To his peers, his wife and his students, he is a forgettable, introverted, workaholic nitwit. But little do they know, Sven is on the brink of a scientific innovation that he must keep hidden from the world, the secret to life itself! Through the cover of the night, Sven collects the freshest and shapeliest of body parts to create his masterpiece. But his creation is missing its most vital piece: the perfect mind. Fortunately for Sven, he has found that final piece to his macabre patchwork of death attached to the subject of his hidden infatuation, his protégé and student, Ruthie. With his greatest achievement nearly complete, Sven must chose between his life's work and his love for his young and passionate pupil. More info HERE.


Doctor Faustus – The hell-bent Dr. Faustus embraces Lucifer to gain knowledge, power, and a personal demon at the price of his soul. While the angels entreat him to re-think his pact, the childish doctor doesn't seem to value order, prosperity, or even himself as much as he does his vanity and whimsy. Marlowe's work with a punk tint examines the subversive nature of man against his own salvation.


So You Want To Be A Vampire – Brenda Frank is so desperate to be turned into a vampire that she actually finds one, but some vampires desire more than blood. "So You Want to be a Vampire" is a very dark comedy about a woman who will stop at nothing to escape the brutal mundanity of her mortal life and be turned into a creature of the night. Join us at Studio/Stages, which will be hosting the Creatures of the Night Convention XXIII every Saturday Night in June at 11:30pm, with a special Vampires-only, Bleed-What-You-Can Night on Friday, June 23rd. Pick up your convention badge and lanyard, have one of our special "Blood Shots" (21 and over for those, VampKids!) and dance to your favorite Goth tracks. Word on the web is that we may have a "special" guest or two this year.
WARNING The first two rows of seating have been designated as a SPLATTER ZONE. Those seated in the SPLATTER ZONE will get bloody.


Nothing Bad: A Werewolf Rock Musical – Deep inside each human a Beast waits to be born—in claws, teeth and violence. Society represses it, terrified of any who succumb. Rebels embrace the edge of it, calling forth its power while avoiding its burn. In an instant of survival, one woman will be transformed by it, split into two pieces—and the battle for control of her body, mind and soul will begin. Vengeance, violence and victimization will all become fuel for a battle of epic proportions. No one is safe from the slaughter to come.
"Nothing Bad" is the World-Premiere musical Written/Directed by Erik Blair with Music/Lyrics by Daniel Sugimoto (creator of the 2016 Hollywood Fringe Producers' Encores Award Winning Broadway Noir). It's a modern musical take on the classic werewolf story that blends the musical rock styles of the classic 1950's and the glam 1980's in a fast-paced, highly energized tale of the difference between who we appear to be on the surface and the darkness that dwells in the depths of our souls. Expect to be surprised at every turn, as this is not The Wolf Man. There is no Twilight to be found here. This is a werewolf story that will bite hard and shake you back and forth in its teeth for a long time to come.


Buffy Kills Edward: A Musical Romp – In an alternate universe, Buffy the Vampire Slayer is introduced to the characters of Twilight and chaos ensues. Upon slaying Bella's beloved Edward, a war of the two worlds commences in which few will make it out alive. With original songs such as "I Slay" and "Everyone Loves a Bad Boy," this musical explores the themes of vampire worlds and the characters within.
Learn More at BuffykillsEdward


Monsters – Monsters is a one-act, horror-comedy that explores the dark turns of two fragile minds in a city that is now their asylum. Two actresses living in Los Angeles are being filmed on a reality show. Grace, who was recently cast in a major production at the Pantages Theatre, is becoming increasingly paranoid as her nerves seem to be getting the best of her. Starting to see things that may or may not be there, she begins to think that her "friend" Kate may be behind it all. In the wake of betrayal and broken trust, both girls are left with only one question. Are the demons living inside or out?


Zombie Clown Trump: An Apocalyptic Musical – FNN (Fake News Network) – BREAKING NEWS!!!!!! Syria, Iran, North Korea, South Korea, and Sweden nuked! On a positive note, America is faring slightly better! Slightly! Dr. Ben Arson has unleashed a powerful virus on the country, in the name of a "cure-all" vaccination, and now millions of people, including our Clown President, have turned into zombies. Trumpcare 45. GREAT! Will our Zombie Clown-In-Chief be reelected in 2020 and bring the hammer down on the world for good? Or will a group of heroes rise up and help deport Zombie Clown Trump to Twitterland forever? Featuring parody music set to artists like The Beatles, Madonna, and Cee Lo Green, and five actors playing multiple roles, including everyone's favorite puppet, White Press Secretary Sean Sphincter, ZCT promises to treat one of the most dire moments in world history (FACT!) with guile, ingenuity and flat-out fun.


Nosferatu, A Symphony in Terror – From the fervent mind of Bram Stoker's Dracula…filtered through the lens of Friedrich Murnau…comes an experience so unique that you will remember it for the rest of your life. Nosferatu takes the audience on an unforgettable voyage from the world we know to the exotic and mysterious ends of our own imaginations. Crown City Theatre presents Nosferatu through the magic of music, dance and drama. This is a unique and unforgettable evening of theatre


Normal – "NORMAL is a dark, unblinking plunge into the nether regions of human depravity. It is not for the faint of heart." – BroadwayWorld NORMAL is a poetic account of real-life German serial killer Peter Kurten who, in Germany in 1931 was convicted of murdering eight people, including several children. This fantastical account of Kurten, his wife and lawyer is an entertaining, terrifying and funny journey – exploring the mind of a serial killer and the people who love him.


Jack the Rippers Mistress – The twisted love story between Jack the Ripper and the woman who fell in love with him. The worlds unsolved murders…. What if they were at the hands of one man…. An immortal man. A man driven by his own madness. Or was it the woman who loved him? The innocence he could not escape. She tells her story… Her life of being, Jack the Rippers mistress.
Murder for Seniors, A Thriller –EDIT. UNFORTUNATELY, THIS WILL NOT BE READY FOR THIS YEAR'S FRINGE. The most popular service offered at the Silver Fountain Senior Residence in New York City is Murder For Seniors. In the program residents plot the demise of anyone whom they wish to see dead. The actual killings have long been carried out by a staff member named Mr. Cassidy. Alas, Mr. Cassidy has died. Claudia, the owner of Silver Fountain Residence comes to Central Park to interview a possible replacement killer.
Grimm Tales – Two brothers, ages 8 and 12, live with their parents in a small house just at the edge of their city. Next to them is a forest, out of place, but regarded with normalcy. When there is tension in their house, the boys often hide in their room, spinning wild stories together. One evening after a family confrontation, the boys escape to the forest and begin telling stories to each other there. As they go back and forth, the stories they tell (based on various Grimm's Fairy Tales) begin to come to life. As the stories progress, they take darker and darker turns, away from the brothers' control.
IMMERSIVE

Dark Arts – From the creator of the HFF16's award-winning PORN ROCK: HOUSE OF CARDS meets VEEP in this dark comedy about America's hidden power structure, and the professional spin doctors locked in eternal war with it. Entrepreneur Marcia Bradford is in crisis: someone is smearing her in the media. The crisis PR firm of Lyndsey Klein & Andrew St. Jude must find out who the perpetrator is before Bradford is destroyed…or they destroy themselves. DARK ARTS is the first-ever theatrical experience to contain both immersive and traditional elements. It is presented in three stand-alone pieces. There is the traditional proscenium show at Fringe. There is an immersive prelude and finale that you can experience outside of Fringe (tickets and info available at www.darkartsplay.com)


Fire & Light – If you missed the critically acclaimed immersive production "Firelight" you now have a chance to get a taste of "Fire" & "Light." Come find us, we will be waiting … A tale of love and loss, touching on our past, present and future. Join us on this adventure into the unknown.


A(partment 8) – Remount of the smash hit from Fringe 2016. Take a walk in someone else's skin in this fully immersive theatrical experience. One audience member per performance. Morbid & disturbing with a twinge of black humor. Location provided 1hr before show.


Sweet Dreams: The Prologue – "Hush a bye, don't you cry…" Sweet Dreams: The Prologue is the first chapter in a series of immersive productions about a missing girl who dreamed of prince charming and true love's kiss. But venture too far into dreams and you might end up missing. Once upon a time there lived a young woman who dreamed of prince charming and true love's kiss. But venture too far into dreams and you might end up missing. Sweet Dreams: The Prologue is the first chapter in a series of immersive productions about a missing girl and the haze beyond reality. Will you end up too far in dreamworld yourself?
PLEASE NOTE: Location for each performance will be announced by 6:30pm on the day of each show at www.shineoncollective.com. TICKET HOLDERS MUST CHECK THE WEBSITE TO KNOW WHERE THEY WILL MEET. Show will start promptly at your designated show time – latecomers will not be guaranteed admittance
This show is designed for only one audience member at a time. The production is fully-immersive and interactive. It contains content that some participants may find disturbing.


The Kansas Collection: Chapter One and Two – Kansas, you have a choice. The Mid-West is in the midst of the dust bowl. You are in need of food, money, and shelter. Opportunity is scarce, hope is nowhere to be seen, and the future looks bleak. You happen upon a curious group of strangers who have set up a colorful tent on the edge of town –All they ask is a moment of your time.. THE KANSAS COLLECTION is The Speakeasy Society's immersive, episodic investigation of L Frank Baum's OZ Series where the choices you make determine the path of your journey.
After Dorothy left, the Scarecrow took charge of the wonderful land of Oz, but now things have gone awry. Oz and it's citizens are in distress. There is civil unrest, there is violence in the streets, and you are being recruited to serve in the Scarecrow's Armed Militia- but there is deception around every corner and things aren't quite what they seem.


Red Flags – You met Emma online. Her profile says she likes rescue dogs, Tetris and therapy. Today is your first date. Too bad it will be terrible…
RED FLAGS is a highly interactive, immersive theater experience for an audience of one, exploring the misunderstandings and unexpected connections on a bad first date. Red Flags is open to audience members of all gender identities, sexualities, relationship statuses, levels of mobility, and with any amount of personal dating baggage. Audience members must have a cell phone and be over 21 years of age to participate. The exact starting location of your date will be texted to you before the show. It will be within one block of the intersection of Santa Monica & Vine. Show length varies, but will be no more than 50 minutes.
PLEASE NOTE: Red Flags is an intense, one-on-one experience: one actor, one audience member. It contains adult content and may be disturbing to some. As on all the bad dates that loom large in your memory, there is nowhere to hide, and as much as it pains you, you must participate. Make sure to respond to Emma's email after you buy your ticket so that you get all the details for your date


John Stamos is my Baby Daddy/Rainbow Brite Power Nap – See two shows for the price of one! Join us for an immersive comedy experience where you become part of the show. Move through three rooms with three different themes, interact with the actors, complete tasks and laugh your way through the show that takes place in a real-life Hollywood co-working office.
"Rainbow Bright Power Naps" is a madcap comedy, where everything that can go wrong during a board meeting does.
"John Stamos is My Baby Daddy" is the announcement Audrey plans to make when she throws a 4th of July party for her family and friends. But absolutely nothing about this party goes according to plan. This comedic play delves into the feminist ideal that women can have it all. PLUS: free parking, easy access to Hollywood/Vine Metro, and tons of food and drinks nearby!
MAGIC

Jon Armstrong: Comic Amazement – Winner of numerous awards, including Close-Up Magician of the Year, Jon Armstrong is best known for his world-class magical talent and for being funny. Not just magician funny—actually funny.


Incantesimo – Music and magic have a deep and ancient connection in cultures all over the world. Incantesimo reveals this connection finding clues hidden in plain sight. Like the word "enchantment" — today we think of as something delightful but it used to mean to cast a magical spell to control someone, originally, a spell created with music: enchantment comes from the French, chante and the Latin cantare: to sing. Mixing music, magic and story-telling, spanning the centuries from the birth of civilization to contemporary neuroscience, Incantesimo doesn't merely tell these stories — it recreates many of them, from the miracles of Orpheus to the medieval Dancing Plague. Incantesimo is a theatrical experience unlike anything you've ever seen.


Name This Magic Show – http://www.hollywoodfringe.org/projects/4583
The interactive magic showdown, where YOU decide the winner! Four magicians enter. One leaves… The others leave, too, but less happy. Watch as four award-winning magicians battle it out onstage for your love, your votes, and your cash. Each performer presents their own unique style of illusion. At the end of the show, audience members vote for their favorite magician and favorite show title! The winning magician takes home all the glory and a big cash prize!


Illusion of Choice: A Magical Experience with Kardenni – Illusion of Choice is a concept show for a live magic performance. A fun engaging experience meant to provoke the viewers subconscious and consider the weight a simple choice like buying vegetables or a gallon of ice cream. Why are you making this choice and are you really making it. All this blended into an interactive magic experience.


Rhapsody! – 50 minutes of Musical Magic! 12 magical vignettes each filled with comedy, sleight of hand, and novel out-of-the-box magic never before seen. Experience the fast-paced comedy and sleight of hand of Jonathan Sky, the up-and-coming musical magician. Classic melodies underscore each illusion as audiences are immersed in the whimsical show. Enjoy a stimulating night of magical jazz, musical comedy, and art coming to life!


The New Bad Boys of Magic – Daniel Donohue and Eric Siegel used to be the hottest double act in Chicago. That is until their rockstar lifestyle forced Eric into early retirement. After several years apart, the two will try to reignite…the magic.
Illusionists…they will conjure cards, coins, condoms, and malt liquor.
Escape artists…they will bravely elude death—and the LAPD.
Mind readers…they will expose the adulterers and alcoholics. (It's them.)
"IT'S A BASIC CABLE MAGIC SHOW WITH A PREMIUM CABLE EDGE!"
As comedians, Daniel and Eric have performed at Second City, iO, the Annoyance, and Upright Citizens Brigade. As magicians, they have played birthday parties, charity dinners, weddings, variety shows, the International Brotherhood of Magicians, and the Harry Houdini Estate. You may have even seen them at the world-famous Magic Castle (not performing—waiting in line to get in).


Charlatan: Secrets of the Victorian Psychics – A bold evening of mesmerism, clairvoyance, and thought-reading straight from the Victorian parlour! British scientist and sceptic Dr. Mark Gasson demonstrates how the most prevalent myths of the Victorian psychics still define what we believe is possible and even challenge our very sense of reality.
EDIT: Dr. Mark Gasson was kind enough to offer our readers a 25% discount off of tickets! Please use promo code HAUNT
MUSIC/MUSICALS

London Calling – On the 40th anniversary since the release of the first Clash album in 1977, "London Calling" a musical with music by The Clash and book by Peggy Lewis will premiere at The Hudson Theatre during the Hollywood Fringe festival in June. London Calling is a gritty musical inspired by music of The Clash based on the events of our lives and others, and a youth spent playing in bands, living in squats and pursuing dreams, in Holland and Canada. The lyrics of the songs are the dialog, that propel the story forward. A story of aspirations, disappointment and redemption.

The Brick: A One Man Musical – It's been said that there are three deaths: First when your body ceases to function. Second when your body is put in its grave. And third, that moment, sometime in the future, when your name is spoken for the last time. This may be the last time. Written by Bill Berry. Directed by Kelly De Sarla.


The Little Mermaid: A Movement Piece – A dark retelling of Hans Christian Anderson's "The Little Mermaid" done with movement and dance set to the music of Evanescence


If You Seek Amy – Cooper Howell is good at many things – Love isn't one of them. Join him as he puts himself on blast through music and spoken word, chronicling his misadventures with men as filtered through his devotion and connection to the music of his favorite artist, Amy Winehouse. From high school rebel to devout Mormon missionary, from sex crazed megalomaniac to broken hearted shut-in, IF YOU SEEK AMY is a dark musical coming-of-age story of how one boy ultimately discovered the power of self worth and all the Amy Winehouse music that inspired him along the way. EDIT – This show was unfortunately cancelled.


A Harmony Boys Christmas – Nobody spreads Christmas Cheer all over your face quite like legendary singing sensations and amateur turtleneck models The Harmony Boys in this raunchy 1960's ode to holiday specials of yore. It's Christmas Eve 1963 and renowned singing sensations The Harmony Boys are presenting their annual yuletide fundraising concert to benefit their charity "Force Feed the World" (in which they shove food and their personal cultural and religious beliefs down the throats of the less fortunate during the holiday season). It's a singing, dancing, musical sketch comedy extravaganza brimming with heartfelt but provocative satire.


Upstairs – A Musical Tragedy – "Upstairs – a Musical Tragedy" tells true stories from the Up Stairs Lounge fire, a 1973 gay bar arson that took 32 lives in New Orleans. We see the fire through the eyes of three survivors, Buddy the bartender, nerdy Reginald, and the haunted Agneau, as each relives that tragic night, evoking memories and ghosts in an attempt to cope with unspeakable loss. But, as the night draws to its inevitable conclusion, Buddy and Agneau discover secrets about one another that challenge their capacity for forgiveness and their hope of ever finding peace. Created for the 40th Anniversary of the fire, this was the first theatrical work to address this shamefully unexamined tragedy. Learn More at upstairsmusical.com
Metalhead – METALHEAD: a folk rock musical about robots and the human people who hate them. When Bot terrorists attack the compound where she lives and goes to school, Jaz discovers that she's been imbued with a mysterious special power to kill a Bot with little more than a touch. The Bot Killer skyrockets to fame, right in the middle of the United States Presidential Campaign of 2116.
MISCELLANEOUS STUFF THAT SOUNDS INTERESTING

The Video Games – THE VIDEO GAMES, is a parody of the popular book/movie series The Hunger Games. The tributes participating in the Battle to the Death have been substituted for video game characters from all the popular video game franchises. Princess Zelda, Queen of The Console, is celebrating the 64th Annual Video Games and needs the audience's assistance (through social media) to ensure that this year's Games are bigger, badder, and bloodier than the year before! By voting for their favorite characters, the audience will to alter the course of events throughout the performance. It's a different show every night as iconic pixelated heroes and villains, such as Donkey Kong, Lara Croft, the Master Chief, and more, compete to win the coveted title of Player One.


Ronnie Brixton – Best of British Boxing – Top British Boxing Presenter and Commentator Ronnie Brixton presents "Best of British Boxing," an evening with the popular media personality. Four-time winner of the coveted British Sports Broadcasters Association (BSBA) Golden Microphone, Brixton promises an overview and breakdown of the great heavyweight matches of the late 20th and early 21st century, an insider's view of the Sport of Gentlemen, and his personal history growing up as the son of the late, much revered trainer George "King George" Brixton. Ronnie will take your questions, and if time allows, address the recent viral video regarding "the woman."


Airplane Live! – The crème de la crème of parody movies, Airplane!, comes to you LIVE on stage in a show that both satirizes and lovingly embraces the comedy classic you already know by heart. Follow the tormented former fighter pilot, Ted Striker, as he tries to win back the affections of stewardess Elaine Dickenson on the doomed flight 209. Full of the moments you love, and some new takes you might not expect, this ain't no passive theater event. Shout out lines, dance, sing and more when you join us aboard the Trans-American Flight traveling from LAX to Chicago O'Hare. Just don't eat the fish!


The Spidey Project – In 2011 a group of writers, actors, and musicians set out to stage a musical parody of the Spider-Man origin story through clear, simple story telling, comedy, and character driven theater. They wanted to do justice to the hero we all know and love, without being bogged down with lavish sets or dangerous stunts. The show went up for only one night in New York, immediately becoming the stuff of legend. A year later, in 2012, Spidey swung into Los Angeles for a sold-out twenty-two performance run at Theatre Unleashed. But after that… nothing. It's been five long years since Spidey took his last bow in the City of Angels. Flash forward to today; we need a hero now more than ever. The time has come for Spidey to return to studio/stage! Featuring additional material and brand new songs, The Spidey Project is the amazing Spider-Man musical parody you've been waiting for!


Domino is Down – DOMINO IS DOWN explores one man's disaffection with the current state of himself. Through a series of casually escalating violent encounters in a quiet museum bar, he's pushed to the brink of his ability to cope. The mood In the bar is frivolous at first but darkens as other patrons are added to the mix. At the end of the night Domino's fuse is fully lit, scorching himself and the people around him


Devadasi: A Story of Sex, Power, and Devotion – Devadasi: A Story of Sex, Power and Devotion tells Reena's story of joining a Russian Tantric Cult and falling in love with a "spiritual master" who she makes her God. By helping Reena awaken to an ancient remembrance of herself as a Devadasi, an Indian Temple Priestess, what is at first an empowering relationship soon turns into one of psychological and spiritual manipulation. Direct interventions by the Goddess Kali, wake Reena up to face the pain of her reality and her own self-hate, a centuries old patriarchal force, which led her into the cult. It is through Reena's devotion to Kali, in and through her body, that she learns to dance with her own darkness and reclaim the power and sacredness of her body and sexuality. Through different characters, movement and dance, Reena takes you on an intimate, humorous and mystical journey into the underworld.


Bloody Awful: Two Twisted Comedies by Leland Frankel – Are you ready to laugh until you die? "Bloody Awful" combines two award-winning plays by Leland Frankel into one unforgettable evening. There will be laughs, screams, and even a little bit of raw, emotional honesty…but not too much. For the first time in history, see "The Callback" and "Slaughterhouse" performed together on the same in this uniquely nightmarish production. "The Callback" is a classic tale of Hollywood dreams gone sour. Showbiz can be brutal, and aspiring actress Molly is willing to do ANYTHING to get the part…even kidnap the show's director. Will art snob Ashford be able to withstand her brutal bouts of physical, mental, and emotional torture? Will Molly finally win the life of stardom that she is convinced she deserves? There are no easy answers in this tense, side-splitting battle of the sexes. "Slaughterhouse" introduces us to Kurt, a self-conscious young man eager to stop his wonderful girlfriend from finding out what a loser he is. A bit more problematically, he is also the only law-abiding citizen living in an apartment populated by notorious serial killers. If they find out that Kurt is NOT the Subway Slayer, then that's three sets of knives to deal with. And if his girlfriend Caroline finds out about his living situation…well, how much would YOU put up with for the ones you love?


Chateau Rene – The Mob has no Retirement Plan.Wiseguy Johnny Vaughn and his Bodyguard Phil DeJulio are facing eviction when their once desirable Apartment Building is being converted to Condos A One Act Play by Sam Ingraffia


The Sunday Night Mystery Show – Produced by a secret society called The Mystery Society, the Sunday Night Mystery Show is a semi-monthly performance of a parody whodunnit the actors have never read. You might think this would hurt their performance. You'd be right. So, when they flub a line, the audience shouts, "Drink!" and they have to take a drink. For the Hollywood Fringe Festival, a three-episode arc is being written by the Mystery Society Writers' Room. Each episode will function both as a stand-alone mystery and as a part of a larger story about the fight between artists and the Industry. You can enjoy one episode on its own or see all three for the full experience. In addition, we are always looking for new members to join the Society. If you would like to join, visit our website. In addition, we will be hosting auditions and free improv classes during the Hollywood Fringe Festival. Check those out, as well!


Emergency Operation – Based on a 10-min play developed through Playground-LA and winner of People's Choice, Emergency Operation is a love story about a break-up. When Adam discovers his girlfriend Kelsey has cheated, he decides to fix his broken heart with surgery. While Adam has the opportunity to start fresh, Kelsey can't let go of a relationship she thought meant everything to her. In a dramedy full of humor, emotion, and surprises—characters learn that actions have consequences and there is no such thing as a quick fix in matters of the heart. Driven by an all female production team, Emergency Operation tackles heartbreak with humor, wit, and love.


Kinsherf's Coat – Every theatre-goer contributes to it. It doesn't exist without them. We arrive at the venue. We take our seats and leaf through the playbill. We reflect upon the architecture of the room, or study the stage set, anticipating the play that lay ahead. We chat with our companion and scan the crowd for familiar faces, taking note of the house music from time to time. And then the lights go down and the moment changes. You won't get that moment back again. Intermission is a different beast, a different head space, motivated by the competing forces of bladder and thirst. The curtain call has been choreographed. It's the most artificial part of any play, when both sides of the footlights are at their least organic. Only the pre-show is pure. And since the Greeks, it has been a steady part of our tradition. That final breath before something happens. Kinsherf's Coat is an experiment that explores that experience. "Triple eX," if you will. An experiencement. We hope you'll join us. It's the only part of any play that can't happen without you there


Robot Monster the Musical – Hailed as one of the greatest bad movies in the annals of film history, the 1953 cult sci-fi classic, "Robot Monster" is a beloved fan favorite for its complete absurdity, hammy acting, charming naiveté and – most of all – for its famously tortured space gorilla. But more than just an infamously "bad movie," the film has a charming and unpretentious sincerity that's so appealing in our frenetic age. With 16 original songs, the musical includes everything current and new fans demand from a show about a space gorilla sent to earth to destroy the human race. Will he succeed? Find out this June at the Sacred Fools Mainstage!


Blamed: An Established Fiction – Blamed: An Established Fiction is a new play that combines text with live music and dance to examine the girls and women throughout mythology, history, and literature who have been blamed for the ills of the world. Each culture seems to have one thing in common: A well-known tale in which a girl does something horrible, or is the victim of something horrible, and she ruins everything and everyone around her. From Eve and Pandora to Lilith and La Llorona, Blamed brings the women to life in an intoxicating mix of live music, dance, and story


Ritual – We are a species that is drawn to and controlled by a devised sense of ritual that drives the most fundamental and crucial aspects of life. RITUAL,a devised movement piece, strives to bring the guttural and raw reality of humanity back to the words of Shakespeare through following the various ritualistic portrayals throughout his works. RITUAL takes a number of concepts that occur in all societies and displays them in a highly stylized movement based manner to illuminate the humanity that exists behind the work. The show seeks to display all aspects of humanity, whole,complete and good as well as those distorted by ever present human vices. Using movement, music and Shakespeare, RITUAL, explores the nature of murder, adultery, obsession, assasination,love,fear, and joy in a minimalistic fashion.


An Evening With John Wilkes Booth – The assassination of Abraham Lincoln was a pivotal point of this nation's history, but it is a story that is always told from Lincoln's point of view. John Wilkes Booth was a great actor, but his father and brother were even greater. And his jealousy and his love for the South and slavery lead him to commit the heinous crime for which he is known. "An Evening with John Wilkes Booth" is a one man play that lets us know who John Wilkes was and why he did what he did. Along the way, there is Shakespeare, sex, drama, and the entire acting out of the assassination itself. Sic Semper Tyrannus


Comic-Con the Musical – Comic-Con is an international phenomenon built around fandom. It hosts fans and creators, collectibles and cosplay, all in one ever more increasingly crowded location. Its vibrant canvas and patrons are the perfect backdrop and cast of characters for a musical. Anna hopes to impress her idol DB Coates, creator of Vempire — the fourth best CW vampire show — and inspiration for her fanfic. Jason brings his original comic book Super Christian Psychic Alcoholic Alien Detective in the hope of securing a publisher. Drew searches for an origin story to go along with his original cosplay. The trio team up creatively when Allen Gray, legendary film producer, announces he is holding a pitch contest and the winning pitch will be made into a film. To achieve their goals, they must overcome: an egotistical idea thief, their own insecurities, and oh yeah, actual aliens. With a little luck, a little guidance from the Dungeon Master, and a healthy dash of friendship and imagination, our intrepid trio just might save their idol, Comic-Con, and the world! (And, in doing so, make Comic-Con once again safe from alien invaders and douchebags!) If you come in costume, you can participate in the Costume Contest! There will be a winner each show!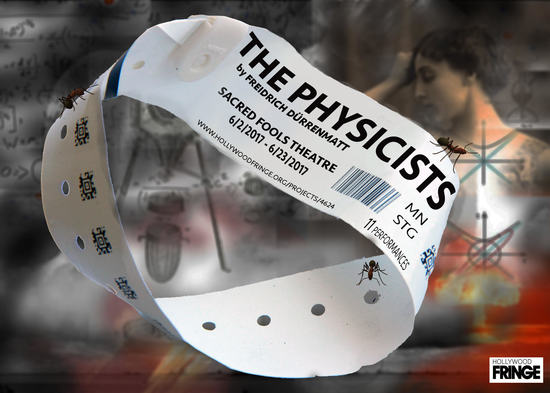 The Physicists – "The Physicists" is an absurd comedy about dark political matters. It takes place in an insane asylum where two patients strongly believe that they are the physicists Isaac Newton and Albert Einstein while a third patient believes that he is speaking to King Solomon. The play begins as a murder investigation unfolds after Einstein murders the nurse who used to care for him. "The Physicists," written in 1961 by Friedrich Durrenmat (The Visit) is thought provoking, disturbing, and hilarious all at the same time and now brought to American audiences during a political climate that cannot be more fitting.


Too Many Hitlers or: The Decoy Decameron – In a bunker in Berlin in the final days of WWII, a dictator takes shelter, and so do his decoys. As the bombs fall they sing, fight, and try to decide which of them is actually the Führer. How many Hitlers are too many? For some, one is plenty. Others can't get enough.


The Complete Works of William Shakespeare (Abridged) – 3 men (in tights) will somehow perform every play by William Shakespeare, in just 90 minutes! Laugh along at this irreverent, fast-paced romp through the Bard's plays as they weave their wicked way through all of Shakespeare's Comedies, Histories and Tragedies in one wild ride that will leave you breathless and helpless with laughter.


The Second Coming of Klaus Kinski – Klaus Kinski (1926-1991) is one of the most celebrated and controversial actors in the history of world cinema. His collaborations with director Werner Herzog were as transcendent as they were tempestuous, and Kinski's indelible performances and wild persona continue to captivate. 15 years ago, actor/writer Andrew Perez discovered Kinski through Herzog's documentary "My Best Fiend" and was inspired to dig deeper into Kinski's life as he conducted a series of interviews with Kinski's closest friends and neighbors in Lagunitas, CA – where Kinski spent the last ten years of his life. This resulted in a one man show at Northwestern University called "I Am Kinski," which was comprised entirely of Kinski's own words. After a decade of living with Kinski, Andrew now goes a step further and re-imagines "The Second Coming of Klaus Kinski." People will tell you he is dead. Don't believe them!


Pledge – A new play by Paul Shoulberg ("Synthesis", "Walter") about what happens when a member of a fraternity kills himself. The ripple effect sends the remaining members into a tailspin that leaves them questioning loyalties and the social structure to which they've blindly subscribed. Directed by Stan Zimmerman ("Meet and Greet", "Yes, Virginia").


Fair – Fair is the story of the notorious murderess, Laura D. Fair, who shot and killed her lover, Alexander P. Crittenden in broad daylight off the coast of San Francisco in 1871. Laura's trial was filled with scandal when the prosecution positioned themselves against any woman with power. Fair, is an ensemble developed play that uses actual court testimony from this once famous case and old letters between two lovers on the brink of despair. Through both comedy and tragedy, Wishbone aims to take you on a journey through the life and heart of Laura D. Fair.


The It Girl – IT GIRL splays open our obsession with the Next Big Thing when it comes to women in the entertainment industry. Looking through the lens of the original "It Girl" Clara Bow and her tumultuous raise and fall in the Silent Film Industry, this original piece becomes the actress' nightmare for contemporary women. A fantasia of silent film, clown, tap, ballroom, boxing, vintage gags, and innovative storytelling, IT GIRL pits an actress in a dance to the death against ShowBiz to find out if anyone can really have It all?


Fallen Stars at the Charity Sale – "Fallen Stars at the Charity Sale" peeks into the inanimate lives of old items languishing at a charity sale. These objects reminisce about their glory days yet desperately hope to gain a new life with new owners—the audience. This is a staged adaptation of a live action role playing (larp) event written by and translated from the original Norwegian by Martin Nielsen and Magnar Grønvik Müller. Audience members are invited to the stage to "purchase," with fake money we provide, objects at a charity sale, affecting our talented, improv ensemble. Each performance differs, as object-characters purchased will not return—YOU get to keep the object you bought. We welcome your donation of an object to be a character in the next show! If you bring an object**, you can take $5 off the ticket price using discount code ITEM, and we will attempt to turn the item you donated into a character in a subsequent show (based on number of objects we receive).


Bonnie and Clyde – They were famous and notorious first in life and now in death. They found fame and celebrity through brutality and execution, and were themselves executed and thus immortalized as icons of reprehensible glory. The legend of Bonnie and Clyde remains undiminished today. Icons and progenitors of 'Reality Stardom' and 'Fake News', we present the demon pair here in Adam Peck's poetically sparse meditation on a bruised, bloodied , twistedly domestic and romantic final few hours alive together, in a bubble, in a barn. First produced to acclaim in Bristol UK in 2010, this play has resonated down to a 'reality' 7 years later where the power of fame for it's own sake, 'unreliable' reporting and a bloodbath of social media 'live streamed' atrocity seeks to fill us all with doubt, desperation and moral incapacity.


Quantum Entanglement – Quantum Entanglement : The most romantic theory in physics. "From this moment on, our entangled light, our lives, cannot be explained without the other." From the Fringe veterans who brought you the award winning Murder Blood Bear Story and How to be a Virgin (in 12 Morally Ambiguous Steps) comes a love story on the smallest scale imaginable. A miraculous journey of self discovery through cosmic light to illuminate the beauty of the dark, both in space and mind. A portrait of a nuclear family awakened by a fractured past. An astrophysicist looking to the moon to find his missing wife. A mother swallowed up by the dark. A daughter desperate to heal them both. And an experiment to connect them all. (Also there's a cat.)